Pauline Roccucci for Re-election for Roseville City Council, District 2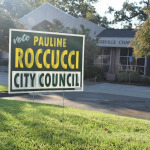 communications@rosevilleareachamber.com
We are proud to announce that our Roseville Area Business Political Action Committee (PAC) has decided to endorse Pauline Roccucci for reelection for Roseville City Council, District 2.
Pauline is currently finishing her four-year term on the Roseville City Council that began in November of 2018. She previously served as Mayor from 1989-1991 and 2010-2012, and on the City Council from 1989-1998 and 2008-2016.
Pauline has also served the community by volunteering. As a registered nurse, she has been a member of the Flying Samaritan Medical Health Team since 1988. She is also a Roseville Soroptimist member, current president of EXCEL Roseville, as well as a member of South Placer Women's Leadership Coalition.
To learn more about Pauline Roccucci and how you can show your support, click HERE.
Our Roseville Area Chamber Issues PAC has also been busy with their efforts to help pass Measure C, the Roseville hotel and lodging tax measure on the November ballot. Measure C will hep maintain high-quality community services, protect our police and fire services, and keep property values high without raising taxes on Roseville residents or businesses. For more information on Measure C, click HERE."