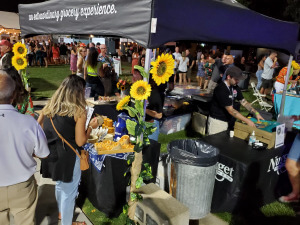 On Saturday, September 10th, the Roseville Area Chamber of Commerce held their highly anticipated 26th annual SPLASH!
This year, SPLASH! sold out faster than any year
previous! Roseville was ready to party! For those who missed out, SPLASH! is Roseville's biggest party of the year featuring live music, dancing, and all you can eat and drink from some of Roseville area's best restaurants, wineries, and breweries. This year 30 restaurants, 14 wineries, and 10 breweries participated!
As attendees enjoyed the event, they were encouraged to cast their votes on best food, drink, dessert, and décor. The winners have been chosen! For best food, the winner was Bounty Hunters Grind & Grill. For best drink, the winner was Kitchen 747. For best dessert, it was a tie between The Nugget & Kelli's Cookies. And finally, for best décor, the winner was Federation Brewing!
Thank you to everyone who made SPLASH! 2022 a success this year! The Chamber staff is already busy thinking of how to make next year even better!