Installation Dinner 2023 Award Nominations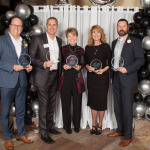 Award nomination forms are now available for the Athena Award and the Edward M. Friedman Community Service Award.
The Athena Award Program celebrates the potential of all women as valued members and leaders of the community and recognizes those who support them. The Athena Award honors individuals who strive toward the highest levels of professional accomplishment. This award honors men and women who excel in their chosen field, have devoted time and energy to their community in a meaningful way, and who also open paths so that others may follow. You can fill out the nomination HERE.
In honor of the late Edward M. Friedman, 2007 President of the Roseville Area Chamber of Commerce, we have established an annual award in his name to recognize a member of South Placer County for his/her significant contributions to the community through business and professional competence, ethics, service, leadership, and charitable giving. You can fill out the nomination form HERE.
Forms for both awards are due by December 29th, 2022. Awards will be presented at the Annual Installation Dinner on Thursday, January 19th, 2023.
And don't forget to secure your tickets for Installation Dinner! This year we will be having a Casino Night theme! Get your tickets HERE.