Congrats to our award winners!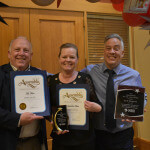 Last Thursday we gathered for a night of food, music, and awards as we celebrated the installation of our 2023 President, Kim Menzel, and our 2023 Board of Directors. During our event, we also honored some very special individuals in our community.
-         Ambassador of the Year: Zach Mongston
-         Volunteers of the Year: Tim & DeeDee Trent
-         Milestone Award: Sharon Brown
-         President's Award: Ann Bouchard
-         ATHENA Award: Wendy Gerig
-         Edward M. Friedman Community Service Award: Jeff Ronten
-         Ryan Haney Referral Partner of the Year Award: Cheryl Cobbin
Congrats to all of our 2023 award winners!