Ignite Coffee Chat This Friday!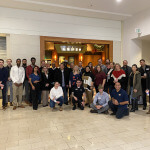 Give yourself something to look forward to at the end of this week by attending our first Ignite Coffee Chat of the year this Friday (2/10) at the Roseville Venture Lab (316 Vernon St.) from 8am-9:30am.
Whether you are young or young at heart, all are welcome to come and enjoy some coffee, networking, and hear from this month's speaker: Monique Brown, Co-Founder & Managing Director, The Growth Factory & Partner at Growth Factory Ventures. RSVP HERE.
Ignite Young Professionals Committee aims to enhance the professional and personal quality of life for the next generation of leaders in the South Placer region. Ignite connects and collaborates with the community through social, educational, and service opportunities to strengthen the skills, network, and civic engagement of young professionals and innovative entrepreneurs. Learn more about what Ignite does HERE.