National Small Business Week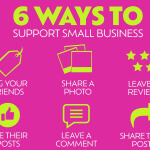 This week is National Small Business Week!
Did you know for every dollar spent at a small business, nearly two-thirds of it stays in our local community? That's more money stimulating the local economy and keeping business booming right here in Roseville!
In addition to shopping locally, there are also plenty of ways to support small businesses. You can leave them a review, share/like/comment on their social media posts, and simply spreading the word to friends and family! Many small businesses will appreciate these simple and easy gestures.
So this week support your favorite small business and spread the word by tagging the Roseville Chamber in your social media posts so we can share and continue to spread the love this week!