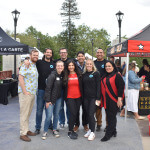 Last Friday, we held our annual Bash event on the downtown Roseville pedestrian bridge put on by our Ignite Young Professionals group. This year's event featured 13 food and beverage vendors serving up delicious samples all night long!
Thank you so much to our events sponsors, especially The City of Roseville, Kaiser Permanente, & Devad Studios, for making this year's Bash a success.
Interested in getting more involved with Ignite? Our next Ignite event is the Coffee Chat on June 9th at Mojoe's (2330 Pleasant Grove Blvd.). Coffee Chats are a great way to network with other young professionals and engage in a conversation with dynamic speakers. You can RSVP for our next Coffee Chat HERE. Hope to see you there!
Make sure to check out our other Chamber events, as well as a list of community events on our website.