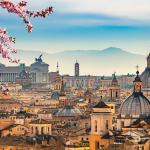 I am excited to announce the relaunch of the Chamber Trip program with our trip to Italy on October 10th!
Get ready to explore Italy with the Roseville Chamber! Our journey will begin in Rome, home to the Colosseum. Visit Venice Square and Capitoline Hill before we explore Vatican City. From there we will drive to Assisi, home to some of the most fascinating museums, art galleries, and world heritage sites in Italy. Next, we make our way to Perugia, surrounded by the mountains and valleys of Umbria, and travel to Siena, rich in history and art! Then we will travel to Florence, where we will discover many artistic masterpieces, such as the David of Michelangelo. Visit Santa Croce Church Square, home to the tombs of many beloved Italian artists, and stroll through Signoria Square before we leave for Rome where we will end our extraordinary tour of Italy! To learn more and book your trip with us to Italy, click HERE.
This is also the launch of a new program: Travel For A Cause. I am proudly serving with The Leukemia & Lymphoma Society (LLS) as the 2023 Light The Night Corporate Walk Chair for Sacramento in their fight to create a world without blood cancers. The Roseville Chamber of Commerce is proud to support LLS mission to cure leukemia, lymphoma, Hodgkin's disease and myeloma, and improve the quality of life of patients and their families. $250 of every person's trip booked will be donated directly to LLS. You can also get more involved by joining my team or donating to LLS HERE.
I hope many of your will join me in the fight against cancer!
Rana Ghadban
CEO