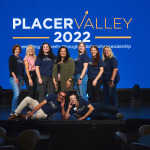 Tickets for Placer Valley 2023 are now on sale! Placer Valley is the region's largest business summit, bringing together South Placer's economic leaders to connect and collaborate. This event features business trade show, informational sessions, guest speakers, happy hour, and a meet and greet opportunity with our keynote speaker.
We are also thrilled to announce our Keynote Speaker: Summer Sanders! Sanders is an Olympic Gold-Medalist, swimmer, and co-host of CBS Sports Net's "We Need to Talk". She is also the author of "Champions Are Raised, Not Born: How My Parents Made Me a Success". We are very excited to bring Roseville native, Summer Sanders, back to Roseville for this exclusive speaking opportunity!
Placer Valley 2023 will be held on Friday, October 6th at Bayside Church's Blue Oaks Campus. Learn more and purchase your tickets & sponsorships HERE.
Stay tuned for more details on what is sure to be a remarkable event!