Placer Valley 2023 Speaker Announcements!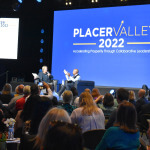 I am excited to announce that Placer Valley 2023, the region's largest business summit, presented by Placer County, will feature 3 dynamic keynote speakers!
Join us for an Opening Program with Professor Margaret O'Mara. Professor O'Mara is a historian and writer who focusses on the growth of technology and its effects on the economy, as well as the history of American politics, and the connections between the two.
Our featured Lunch Keynote will be Warner Thomas, President and CEO at Sutter Health. In addition to giving updates on the Sutter Roseville expansion, he will address the state of the healthcare industry as well as share his perspective on transformational leadership.
And to end the day on a high note, our Closing Program will be a moderated conversation by Mayor Bruce Houdesheldt with Olympic Gold Medalist, Summer Sanders. Sanders is best known as an Olympic Champion swimmer, an NBA television host, a Nickelodeon game show host, and an ambassador of international charitable organizations. Summer also has local roots, graduating from Oakmont High School in 1990!
Tickets and sponsorships are now available so make sure to secure yours today! Sponsorships are a great way to promote your business and your only way into the VIP lounge & an exclusive meet & greet with Summer Sanders. You can learn more about our speakers, sponsorships, & Placer Valley 2023 HERE.
The event will also include the presentation of the Placer Valley Business Awards, sponsored by CLA. There are three awards available for nominations: The Young Professional of the Year Award, The Entrepreneur Award, and The Business Person of the Year Award. You can learn more about the criteria for each award and nominate outstanding community leaders HERE.
I hope to see you on October 6th at Placer Valley 2023!