Congrats to our 2023 Placer Valley Award Winners!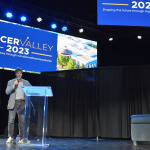 Last Friday was a very special day bringing together Placer County's community and business leaders at Placer Valley 2023 to engage in great conversations on how to shape the region's future through transformational leadership. I would like to give a special thanks to all those that made the event possible: the awesome Chamber team, the event committee and its Chair Ann Bouchard, our neighboring chambers Lincoln Area Chamber, Auburn Chamber, Rocklin Area Chamber, and Loomis Basin Chamber of Commerce, as well as our sponsors especially our Presenting Sponsor The County of Placer!
I would also like to congratulate the winners of the Placer Valley Awards sponsored by Clifton Larson Allen LLP. Congratulations Lilia Tahmasian, Young Professional of the Year, Will Mentesh, Entrepreneur of the Year, and Andy Klein, Business Person of the Year. Thank you for your hard work and dedication to the Placer Valley business community!