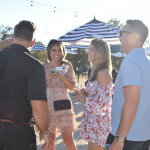 Happy November Chamber Members!
A growing chamber membership creates a thriving ecosystem that fosters collaboration, support, and opportunities for its members. It amplifies the chamber's influence and effectiveness, ultimately benefiting the entire business community it serves.
We are kicking off the month with the launch of a new referral incentive program: New Member November!
Here's how it works:
1.     Refer a friend to the Roseville Chamber by filling out the form HERE.
2.     The business you refer completes the application process and becomes a Member of the Roseville Chamber by November 30th.
3.     You and the new Member you referred receive a $25 gift card from your choice of pre-selected restaurants! Plus, you will be entered in a drawing for a comped renewal! *($350 max).
If you have any questions , feel free to reach out to our Director of Membership, Monica Goodpaster at Monica@RosevilleAreaChamber.com or 916-757-6881.